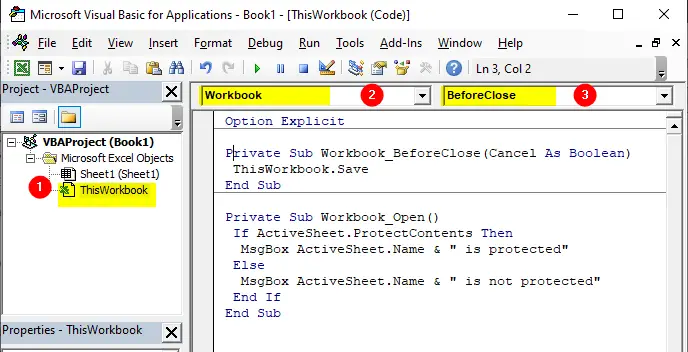 Workbook_Open
Syntax: Workbook_Open()
One of the most common monitored events is the Open event for a workbook. The Open event is triggered when the workbook is opened and executes the procedure named Workbook_Open. The Workbook_Open procedure is perfect for such tasks as these:
Informing users about the workbook features
Displaying a welcome message
Activating a particular worksheet or cell
Opening other workbooks
… and many more
Here's an example of the Workbook_Open procedure which check the contents of active worksheet when you open the workbook.
Workbook_Open Example:
Private Sub Workbook_Open()
 If ActiveSheet.ProtectContents Then
  MsgBox ActiveSheet.Name & " is protected"
 Else
  MsgBox ActiveSheet.Name & " is not protected"
 End If
End Sub
Workbook_BeforeClose
Syntax: Workbook_BeforeClose (Cancel)
The Workbook_BeforeClose event handler procedure is executed automatically immediately before the workbook is closed. Here's an example of the Workbook_BeforeClose procedure which saves the workbook automatically before closing it, so the Excel will not show you the prompt that ask you if you want to save your changes.
Workbook_BeforeClose Examples:
Private Sub Workbook_BeforeClose(Cancel As Boolean)
 ThisWorkbook.Save
End Sub
The Cancel argument can be set to True or False. Setting Cancel argument to True cancels the close operation and the workbook is left open:
Private Sub Workbook_BeforeClose(Cancel As Boolean)
 Cancel = True
End Sub
by
updated