In the unlikely event that you need to share files with someone using PowerPoint 95, you must save them in an alternate format. To do so, choose File, Save As and select PowerPoint 97-2003 & 95 Presentation (*.ppt) in the Save as Type box. When you choose this option, PowerPoint saves two copies of your presentation in the same fileone in PowerPoint 95 format, the other in the standard PowerPoint presentation formatand anyone can open, view, and edit the presentation by using any version of PowerPoint.
Note
When you save a PowerPoint 2002/2003 presentation in PowerPoint 95 format, you lose many components of your presentation. Animated chart elements, hyperlinks, and macros, among other elements, all disappear. In addition, file size usually swells: PowerPoint 95 has comparatively crude picture-compression capabilities.
Creating a Presentation
When you choose File, New, PowerPoint presents you with a familiar task pane that includes a variety of options for creating or opening presentations (see Figure 3).
Figure 3. PowerPoint lets you choose whether you want to open an existing presentation, create a new presentation with or without content, or pull in a template.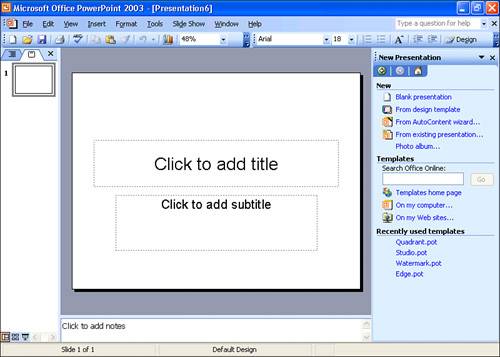 by
updated