You need a free add-on called Microsoft Producer 2003. At 46MB, you'd better have a high-speed Internet connection to download it. But the wait is worth it. Producer lets you do any or all of the following:
Capture narration and synchronize it with your slides using a simple wizard

Capture high-quality audio and video and add it directly to your presentation

Create presentations that play back properly on Macintosh computers and in non-Microsoft browsers

Embed presentations into HTML frames within a website and allow viewers to save stopping points, speed up playback, and easily fast-forward or rewind through the show

Create multiple versions of your show in different bit rates or using different versions of the Windows Media format
Producer has a steep learning curve, and it isn't for the casual PowerPoint user. But if you're ready to turn pro (or at least semi-pro) this is an excellent addition. You'll find it at http://www.microsoft.com/office/powerpoint/producer/prodinfo/default.mspx.
Figure 17.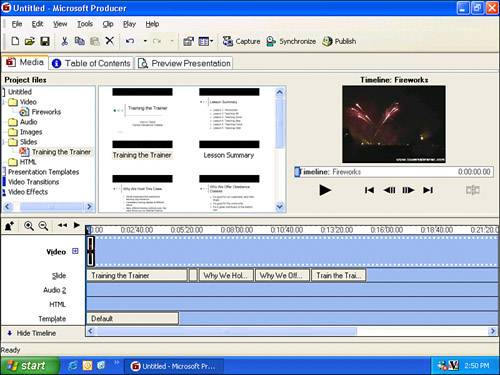 by
updated