Mostly people aren't very good with graphic design. Worksheets with gaudy colors and unreadable blue-on-green text are common.
Excel has always supported named styles, which can be applied to cells and ranges. Excel 2007 brings this feature to the forefront by providing a good assortment of predefined styles, easily accessible by choosing Home > Styles > Cell Styles.
With the introduction of document themes, Excel 2007 makes it easy to create good-looking worksheets. A theme consists of a color palette, font set, and effects. You now have one-click access to a gallery of professionally-designed themes that can dramatically change the look of your entire spreadsheet-almost always for the better. Access the theme gallery by choosing Page Layout > Themes > Themes.
Better Looking Charts
Excel 2007 offers no new chart types, and many of the long-time chart-related feature requests have been ignored by Microsoft.Excel charts now look better than ever. For the first time, you can honestly use the term "boardroom quality" to describe Excel charts.
Page Layout View
As an option, you can display your worksheet as a series of pages. This new Page Layout view ensures no surprises when it's time to print your work. Even better, the Page Layout view includes "click and type" page headers and footers-which is much more intuitive than the old method. Unlike the standard print preview, Page Layout view is fully functional in terms of spreadsheet editing.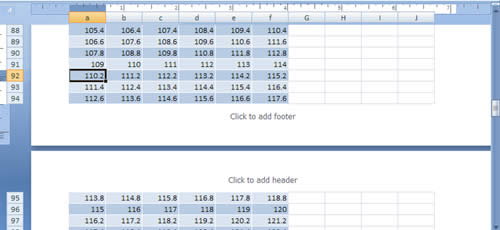 Excel's new Page Layout view makes it easy to see how your printed work will appear.
by
updated