Let's break the file extension in three parts: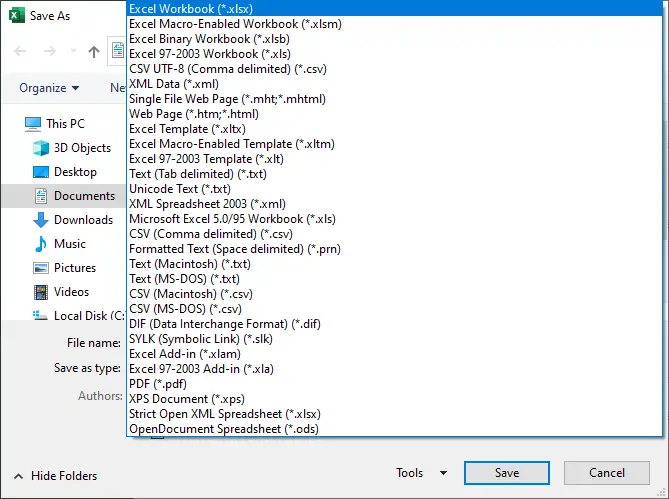 The first and second letters of the file extension refer to the application:
The third letter refer to the specific file type:

s = Spreadsheet
t = Template
a = Add-in

The last letter specifies whether the file format is XML based or it supports macros:

x = XML based file format, can't store VBA macro code
m = Macro-enabled and XML based file format
b = Binary file format (support faster loading and saving). This non-XML based file format can store VBA macro code.
Excel 2007-2019 file extensions
.xlsx = Excel Workbook
It is the default Excel file format.
.xlsm = Excel Macro-Enabled Workbook
The file format with all macros it contains enabled.
.xlsb = Excel Binary Workbook
The binary file format, optimized for the faster loading of really large workbooks with tons of data.
.xltx = Excel Template
An Excel template file can use to generate new workbooks containing the same layout and content as the template.
.xltm = Excel Macro-Enabled Template
An Excel template file format with all the macros it contains enabled.
.xlam = Excel Add-in
An Excel add-in is a workbook that gives additional functionality to any workbook. Its open automatically when it starts-up.
Excel 97-2003 file extensions
.xls = Excel Workbook
This binary file format is used by earlier versions of Excel 97 through Excel 2003.
.xlt = Excel Template
Binary files for an Excel template.
.xla = Excel Add-in
Binary files for an Excel add-in.
Open source spreadsheet programs file extension
.ods = OpenDocument Spreadsheet
You can save (or open) a workbook in ODF format with an .ods filename extension that's used by other Office suites of programs, such as StarOffice OpenOffice.
Other file formats supported in Excel
.csv = Comma delimited text file
.dbf = dBase file format
.dif = Data Interchange Format
.htm, .html = Web-Page, saved in a folder, all supporting files saved in that folder.
.mht, .mhtml = Single File Web Page, includes all supporting files, such as images
.pdf = Portable Document Format, this format preserves file formatting when sharing with others.
.prn = Lotus space-delimited format.
.slk = Symbolic Link Format
.txt = Plain text file
.xml = XML file format
.xps = XPS Document
by
updated